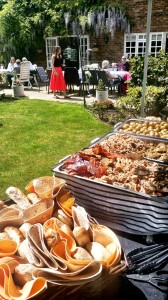 Here at Hog Roast London, it has been our mission for the last 20 years to make our clients fall in love with the age-old art of hog roast cooking all over again. We believe it is the best way of cooking meat to bring out its natural flavour and succulence and we want as many people as possible to benefit from this unrivalled experience. With our own unique approach, we have perfected the technique of hog roast cooking and introduced it to a much wider audience with our modern, elegant menus that are suitable for all occasions.
Our Modern Methods
 Our traditional cooking technique may have a long history, but our hog roast machines are the most modern and well-designed pieces of equipment on the market. They can be transported and operated anywhere, and they are even suitable for use in intimate indoor spaces. Their sleek streamlined exterior makes them an elegant showpiece for even the most formal settings in North London, whilst their robust and versatile interiors allow us to produce the most flavoursome and tender meat imaginable. Having the best equipment in the business would mean nothing of course, if it wasn't for the skill and knowledge of our expert chefs who invest just the right amount of time and care into each meal they prepare to provide you with fantastic results every time.
Our Diverse Menus
 As well as providing you with the highest quality, ethically-reared meat, we can also offer you a multitude of menu options befitting to any special occasion, private party, wedding reception or corporate event. We have always aimed to provide food that everyone can enjoy and serve and present it in a way that suits the level of formality your event requires. We have an equally appealing range of vegetarian options for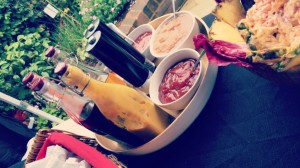 guests who don't eat meat, as well as a sophisticated selection of our own individually handmade canapes. We can also provide full 3 course meals with table service and gluten-free substitutes if required. We take everything into consideration when planning our menus, our versatile catering team will prepare every dish with great skill and attention to detail, and if you require waiting staff, our customer-focused team will ensure all of your guests are well cared for.
Why not give us a call today to hear more about us and the fantastic services we can offer to your special event!